Measuring the quality and quantity of wet steam
May 27, 2022
by
the_admin
in Solutions
Measuring the quality and quantity of wet steam, saturated steam and superheated steam!
Tek-Flo Mass 1300D Steam Quality Meter is the only meter with two proven technologies (Cone and Vortex) that
provides accurate steam and steam quality measurement. The meter produces a reliable steam quality (dryness)
measurement and steam mass flow rate reading in saturated steam services.
Can provide a measurement of fluid density, volumetric flow rate
and mass flow rate without any fluid information being required
from an external source.
In steam service, the meter is able to provide a reliable steam
quality (steam dryness) measurement as well as mass flow
measurement.
Able to calculate the density of changing gas mixtures. For example,
natural gas is typically a composition of many different gases which
can vary over time and vary by application.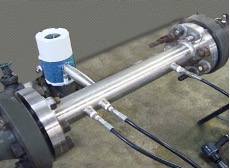 More cost effective than current steam quality and wet gas meters on the market.
Advanced diagnostic software is able to continually monitor and verify the meter's primary flow element health and confirm output uncertainty.
Able to use with liquids, gases, and steam.
Additionally, multiple readings from a single installed device reduces initial cost, installation cost and cost-of ownership over the lifetime of the instrument.