Uniquely designed for easy installation, reduced maintenance and superior reliability in Gases and Liquids
October 14, 2020
by
the_admin
in Vortex
Reliable Technology offering many advantages for flow measurement, including no moving parts, easy installation and almost has no maintenance without impulse lines, less leak potential and a wide flow turndown range.
TEK-VOR 1300C Series Vortex Flow Meters offers very low power consumption, allowing for use in remote areas. Designed exclusively to calculate the mass flow, volumetric flow rate, temperature, pressure, and density of any liquid, gas, or steam through a pipeline.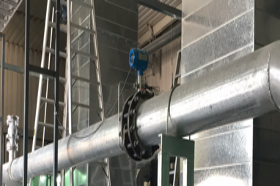 This device has a Unique Dual Sensor design, enhancing the special signal processing method providing better anti-vibration and Self-diagnostic function. The unique, compact, and easy to install design makes Tek-Vor 1300C remarkable in numerous industries, including Petrochemical, Chemical, Pharmaceutical, Food and Beverage, Power and District Heating/Cooling. Tek- Vor 1300C brings significant benefits when used in superheated or saturated steam applications, where measurement can be challenging to ensure safety in optimum conditions.